Sci France
French ski areas closing dates 2022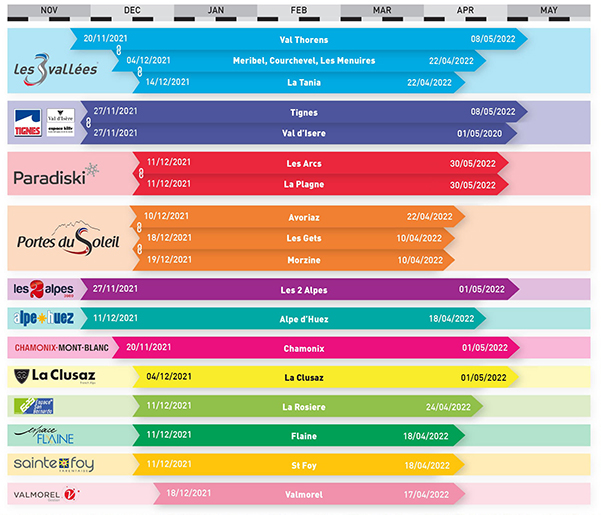 France: raccolta delle ultime condizioni dela neve
Summary of forecast snowfall and ski conditions for resorts in France. Fresh snow is forecast at 0 resorts. Powder is reported at 0 resorts and 13 are reporting good piste conditions.
Recenti eyeball rapporti di neve per France
Cloudless skies over Gréolières Les Neiges. Calm. Well above freezing today. All lifts are closed. The pistes are closed. No off-piste snow.

Osservazione radar del tempo:

Heavy snow is falling on the slopes above Alpe d'Huez.

Osservazione radar del tempo:

Snow falling heavily on the slopes above Grand Tourmalet-Bareges/La Mongie.
Ski resorts in France from M to R
Località turistica

altezza neve
in cima e a valle

sulle piste

fuori pista

ultima nevicata

next 9 giorni
0–3 | 3–6 | 6–9
neve (

cm

)
Prossimo5 giorni di previsioni meteo.
Livello di congelamento (

m

)
Thu
Fri
Sat
Sun
Mon

Manigod

(1480 m — 1810 m)

Stazione intermedia

1645

m

3700

 

m

3150

 

m

4150

 

m

4150

 

m

4200

 

m

Massif du Mezenc

(1282 m — 1600 m)

snow report ieri

Stazione intermedia

1441

m

3450

 

m

3200

 

m

4200

 

m

4300

 

m

4300

 

m

Méaudre

(1000 m — 1600 m)

Stazione intermedia

1300

m

3650

 

m

3300

 

m

4250

 

m

4250

 

m

4200

 

m

Megeve

(1113 m — 2350 m)

snow report ieri

Stazione intermedia

1732

m

3750

 

m

3250

 

m

4150

 

m

4200

 

m

4150

 

m

Menthières

(1070 m — 1526 m)

Stazione intermedia

1298

m

3400

 

m

2750

 

m

4100

 

m

4150

 

m

4250

 

m

Méribel

(1452 m — 2952 m)

snow report ieri

Stazione intermedia

2202

m

3750

 

m

3400

 

m

4250

 

m

4250

 

m

4200

 

m

Métabief

(933 m — 1463 m)

snow report ieri

Stazione intermedia

1198

m

3350

 

m

2800

 

m

4050

 

m

4050

 

m

4150

 

m

Mieussy-Sommand

(1200 m — 1700 m)

Stazione intermedia

1450

m

3600

 

m

3150

 

m

4100

 

m

4150

 

m

4200

 

m

Mijanes-Donezan

(1530 m — 2001 m)

Stazione intermedia

1766

m

3650

 

m

3550

 

m

4450

 

m

4500

 

m

4550

 

m

Mijoux-La Faucille-Lelex

(900 m — 1600 m)

opens in 163 days

1

cm




65 giorni fa

Stazione intermedia

1250

m

3400

 

m

2800

 

m

4050

 

m

4100

 

m

4200

 

m

Molines en Queyras

(1751 m — 2451 m)

Stazione intermedia

2101

m

3850

 

m

3550

 

m

4300

 

m

4350

 

m

4400

 

m

Mont -Saxonnex

(1100 m — 1570 m)

snow report ieri

Stazione intermedia

1335

m

3650

 

m

3150

 

m

4150

 

m

4150

 

m

4200

 

m

Mont Ventoux

(1400 m — 1901 m)

snow report ieri

Stazione intermedia

1650

m

3850

 

m

3500

 

m

4350

 

m

4400

 

m

4450

 

m

Montalbert

(1349 m — 2558 m)

Stazione intermedia

1954

m

3750

 

m

3350

 

m

4200

 

m

4250

 

m

4150

 

m

Montchavin

(1250 m — 3250 m)

snow report ieri

Stazione intermedia

2250

m

3750

 

m

3350

 

m

4200

 

m

4250

 

m

4100

 

m

Montgenèvre (Via Lattea)

(1350 m — 2680 m)

snow report ieri

Stazione intermedia

2015

m

3800

 

m

3500

 

m

4300

 

m

4350

 

m

4400

 

m

Montriond

(1128 m — 2277 m)

snow report ieri

Stazione intermedia

1702

m

3650

 

m

3150

 

m

4100

 

m

4150

 

m

4150

 

m

Monts-Jura (Lélex/Crozet)

(880 m — 1679 m)

snow report ieri

opens in 170 days

8

cm




66 giorni fa

Stazione intermedia

1280

m

3400

 

m

2800

 

m

4100

 

m

4100

 

m

4250

 

m

Morillon

(689 m — 1900 m)

Stazione intermedia

1294

m

3700

 

m

3200

 

m

4150

 

m

4150

 

m

4100

 

m

Morzine

(999 m — 2019 m)

snow report ieri

Stazione intermedia

1509

m

3650

 

m

3200

 

m

4150

 

m

4150

 

m

4150

 

m

Mottaret

(1450 m — 2950 m)

Stazione intermedia

2200

m

3750

 

m

3400

 

m

4250

 

m

4250

 

m

4200

 

m

Mt Cinto (Haut Asco)

(1 m — 2706 m)

Stazione intermedia

1354

m

4250

 

m

4200

 

m

4650

 

m

4600

 

m

4600

 

m

Nancy Sur Cluses

(1200 m — 1600 m)

snow report ieri

Stazione intermedia

1400

m

3650

 

m

3200

 

m

4150

 

m

4150

 

m

4150

 

m

Névache

(1500 m — 1750 m)

snow report ieri

Stazione intermedia

1625

m

3800

 

m

3450

 

m

4300

 

m

4350

 

m

4350

 

m

Nistos

(1600 m — 1800 m)

snow report ieri

Stazione intermedia

1700

m

3350

 

m

3550

 

m

4350

 

m

4350

 

m

4450

 

m

Notre Dame de Bellecombe

(1151 m — 2071 m)

snow report ieri

Stazione intermedia

1611

m

3750

 

m

3250

 

m

4200

 

m

4200

 

m

4200

 

m

Orcieres

(1850 m — 2725 m)

snow report ieri

opens in 163 days

18

cm




25 giorni fa

Stazione intermedia

2288

m

3850

 

m

3450

 

m

4350

 

m

4350

 

m

4400

 

m

Orelle

(2350 m — 3230 m)

snow report 21 giorni fa

Stazione intermedia

2790

m

3800

 

m

3450

 

m

4300

 

m

4300

 

m

4250

 

m

Oz en Oisans

(1349 m — 2800 m)

Stazione intermedia

2074

m

3800

 

m

3300

 

m

4300

 

m

4300

 

m

4300

 

m

Passy Plaine Joux

(1340 m — 1740 m)

snow report ieri

Stazione intermedia

1540

m

3750

 

m

3250

 

m

4150

 

m

4200

 

m

4050

 

m

Peisey/Vallandry

(1301 m — 2401 m)

snow report ieri

Stazione intermedia

1851

m

3750

 

m

3350

 

m

4200

 

m

4250

 

m

4100

 

m

Pelvoux-La Vallouise

(1251 m — 2301 m)

snow report ieri

Stazione intermedia

1776

m

3800

 

m

3450

 

m

4300

 

m

4350

 

m

4300

 

m

Peyragudes

(1600 m — 2400 m)

snow report ieri

opens in 156 days

10

cm




36 giorni fa

Stazione intermedia

2000

m

3500

 

m

3500

 

m

4300

 

m

4300

 

m

4400

 

m

Piau Engaly

(1420 m — 2500 m)

snow report ieri

opens in 156 days

10

cm




36 giorni fa

Stazione intermedia

1960

m

3450

 

m

3550

 

m

4300

 

m

4350

 

m

4400

 

m

Porté Puymorens

(1600 m — 2471 m)

opens in 142 days

6

cm




36 giorni fa

Stazione intermedia

2036

m

3650

 

m

3450

 

m

4400

 

m

4550

 

m

4550

 

m

Pra Loup (Espace Lumière)

(1500 m — 2600 m)

snow report ieri

opens in 163 days

8

cm




25 giorni fa

Stazione intermedia

2050

m

3900

 

m

3500

 

m

4350

 

m

4350

 

m

4500

 

m

Prabouré

(1260 m — 1400 m)

snow report ieri

Stazione intermedia

1330

m

3100

 

m

2750

 

m

4150

 

m

4250

 

m

4250

 

m

Pralognan La Vanoise

(1410 m — 2355 m)

opens in 163 days

3

cm




53 giorni fa

Stazione intermedia

1882

m

3750

 

m

3400

 

m

4250

 

m

4300

 

m

4200

 

m

Prat Peyrot / Mont Aigoual

(1140 m — 1440 m)

Stazione intermedia

1290

m

3550

 

m

3350

 

m

4300

 

m

4400

 

m

4400

 

m

Praz De Lys Sommand

(1500 m — 2000 m)

snow report ieri

Stazione intermedia

1750

m

3600

 

m

3150

 

m

4100

 

m

4150

 

m

4200

 

m

Praz Sur Arly

(1000 m — 1983 m)

snow report ieri

Stazione intermedia

1492

m

3750

 

m

3250

 

m

4200

 

m

4200

 

m

4150

 

m

Puigmal 2900

(1830 m — 2600 m)

Stazione intermedia

2215

m

3750

 

m

3600

 

m

4400

 

m

4550

 

m

4600

 

m

Puy St Vincent

(1400 m — 2750 m)

snow report ieri

opens in 163 days

10

cm




25 giorni fa

Stazione intermedia

2075

m

3850

 

m

3450

 

m

4300

 

m

4350

 

m

4300

 

m

Puyvalador

(1700 m — 2400 m)

snow report ieri

Stazione intermedia

2050

m

3650

 

m

3550

 

m

4400

 

m

4450

 

m

4550

 

m

Reallon

(1560 m — 2116 m)

snow report ieri

Stazione intermedia

1838

m

3850

 

m

3450

 

m

4300

 

m

4350

 

m

4400

 

m

Rencurel

(1074 m — 1500 m)

Stazione intermedia

1287

m

3650

 

m

3300

 

m

4250

 

m

4300

 

m

4200

 

m

Risoul

(1850 m — 2750 m)

snow report ieri

opens in 163 days

1

cm




30 giorni fa

Stazione intermedia

2300

m

3850

 

m

3500

 

m

4300

 

m

4350

 

m

4400

 

m

Roubion - Les Buisses

(1410 m — 1920 m)

snow report ieri

Stazione intermedia

1665

m

3950

 

m

3750

 

m

4350

 

m

4450

 

m

4550

 

m