Panoramica sulla neve nel mondo
Abbiamo creato questa pagina per aiutarvi a trovare le migliori condizioni di neve. Essa combina le fonti di dati passati, presenti e futuri da tutto Snow-Forecast.com e aggiornamenti regolarmente. Il Carrellata Neve pagina è aggiornata il lunedì e il giovedì per tutti le principali località sciistiche. In diretta aggiornamenti neve eyeball sono mostrati in tempo reale, se presentati via Twitter dalla nostra rete globale di giornalisti. Scelte delle Località liste località sciistiche di tutto il mondo in cui è prevista neve fresca, la neve fresca è riportata e le ultime profondità della neve.
SNOW NEWS UPDATED 22 JANUARY 2020

INTRODUCTION After a month of fairly static weather in much of Europe, there have been some changes this week with weather fronts moving across the continent again at last. The biggest impact has been in the Pyrenees where a major storm has been dumping snow and bringing strong winds with it over the past two to three days. This has really transformed conditions where some areas have seen little snowfall this winter.
AUSTRIA REPORT The snow arrived in Austria a little later than France and Switzerland, over the weekend, with the country reporting the biggest accumulations on Saturday-Sunday. And after the snow front had moved on, some of the biggest accumulations in Europe. Gerlos (60/195cm / 24/78"), in the Zillertal Arena, topped the snowfall table with 60cm (2 feet) by Monday morning. For most of Austria by then, it had returned to dry, sunny, and a few degrees above freezing (in other words, a little too warm), but most of the country's resorts are still celebrating a slope freshen up. The glaciers remain the most snow-sure destinations in Austria with the Kaunertal Glacier (50/340cm /20/136") currently reporting the deepest snow in the country after 15cm (6 inches) of fresh snowfall.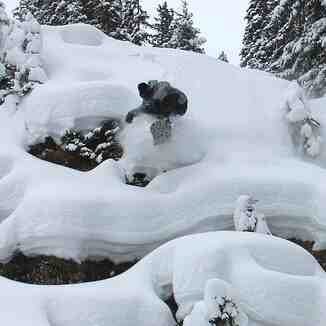 FORECAST After the weekend snow, we're back to the weather we've had since Christmas with sunny skies the norm now across Austria. Unfortunately, it is warm too with temperatures above freezing at times above the mountain tops so there's a chance of some thawing. As has been the case for the past month or more now, the lower you go the less snow you'll find and temperatures are 5-10 degrees above freezing down in the lower mountain valleys, much warmer than it should be.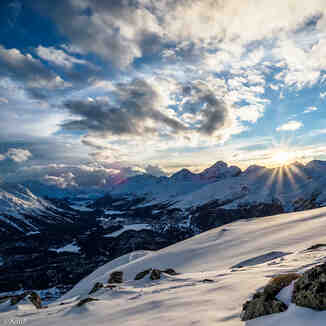 SWITZERLAND REPORT Although many Swiss ski areas did not receive quite so much snow as they might have hoped from last weekend's snowfalls, the first there for nearly a month, the country's ski areas did actually do better than most in Europe and reported the biggest accumulations of up to 30cm (12 inches) in the 24 hours up to Saturday morning. The snow resulted in the shortening of the Lauberhorn racecourse for the big World Cup event of the year in Wengen (20/70cm / 8/28") which reported 25cm (10 inches on race day morning. But now we're back to business as usual with sunny skies and temperatures hovering around zero and most terrain open. Andermatt (35/395cm / 14/158") just got a little snow but reports its base depth back up to just under 4 metres, the country's deepest.
FORECAST Conditions should be pretty excellent this week on most Swiss slopes after the fresh snowfall. Temperatures are hovering around freezing point in many areas so there shouldn't be much thawing under the sunshine, which is again set to be the dominant weather feature of the coming week (as it has been for much of January). There's a chance of some snow clouds in the south and east around the weekend but currently, it doesn't look like they'll deliver much.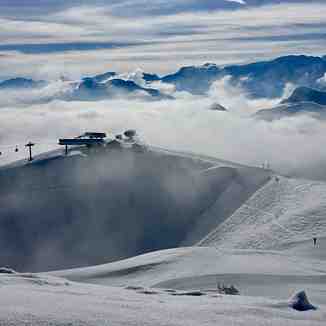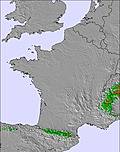 FRANCE REPORT The French Alps got their share of the long-awaited weekend snowfall, seeing most of the weather on Friday and Saturday. The French Pyrenees, however, are being dumped on now and are forecast to have received up to 60cm (2 feet) by the time the storm eases on Thursday/Friday. Several areas have been closed as a precautionary measure due to forecast wind speeds and snow volumes. Currently, therefore, conditions are excellent across the French Alps with the fresh snow cover on a well-established base and the sun out again. Alpe d'Huez (128/260cm / 51/104") reported the biggest snowfall in the French Alps with 40cm (16 inches) though most got 10-30cm (4-12"). Val d'Allos (160/ 280cm / 64/112") has just pipped Montgenevre by two inches to take the current title of the deepest base in France.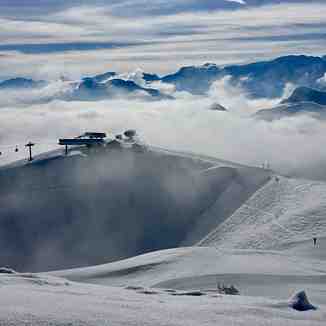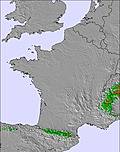 FORECAST A mixed picture for France with most of the French Alps now back to sunshine. It is fairly cold, however, well below freezing on higher slopes and not much above on low slopes and in the valleys so conditions should remain great all week. The Pyrenees, as mentioned, are currently experiencing a storm with gales and heavy snowfall, that should blow through by Thursday/Friday. The only other point to note is the chance of some light snowfall later in the week at some areas in the Southern Alps.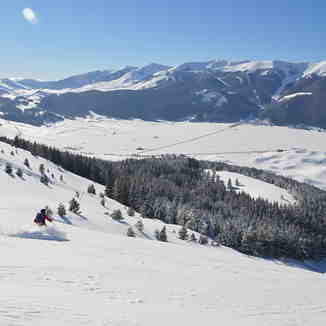 ITALY REPORT There was some fresh snow for most Italian ski areas too through Friday to Sunday, although perhaps not so much as further north and west in Austria, France and Switzerland. The Piermont region reported the biggest falls, with the Mondole ski region (80/180cm / 32/72"), which reported huge snowfalls back in early December too, getting 35cm (14 inches) of fresh snow through the weekend. Here too the snow has freshened up cover on the established base, with the sun now shining again and excellent conditions reported across the country.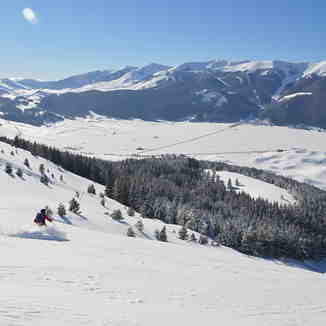 FORECAST It's looking like a largely sunny week ahead in Italy too with temperatures hovering around the freezing point. There is some light snowfall forecast across the country at the weekend but it looks like if it amounts to anything it will be minimal, 2-10cm (1-4 inches) of snowfall.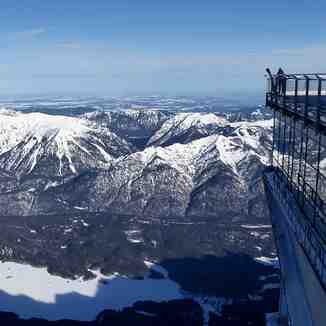 GERMANY REPORT It has definitely been the best week of the season so far in Germany with snow-starved lower areas seeing as much snowfall over the weekend as they'd had all season to date. Jenner (10/70cm / 4/28"), near Berchtesgaden, for example, issued powder alarms on two successive days for heavy snowfall there, a total of 55cm (22 inches) falling over 60 hours. Conditions are still not fantastic, it reports that only 2km of its 11km of runs are open, but it's something. The country's highest resort, Zugspitze (158/183cm / 63/73") reported 43cm (17 inches) in the same period. It has had the best conditions all winter thanks to its altitude.
FORECAST Alas, it is not looking great for the coming week in terms of preserving the snow that has fallen. Conditions are very much more like April than January once again with temperatures hitting double digits above freezing during the day in the valleys and well in to plus temps at the top of the slopes in most German resorts too, dipping back below freezing overnight, possibly enough to allow some snow-making in places. No major change on the horizon at present.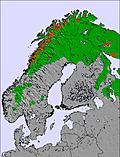 SCANDINAVIA REPORT There's something of a north and west split with the south and east in Scandinavia. The snow keeps falling, at least on higher ground in the north and west, whilst in the south and east it has been a mostly warm winter to date. Although most areas are open thanks to a combination of early-season snowfall lasting through the warm spells and snow-making in the cold spells. In Sweden, Hemavan (120/120cm / 48/48") has the deepest base and in Norway, it's Voss Myrkdalen (980/180cm / 32/72") which continues to have a very snowy start to 2020 with another 34cm (16 inches) in the past few days.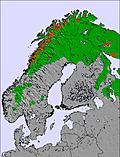 FORECAST It looks set to remain fairly mild across Scandinavia for January with the temperature varying a few degrees below freezing or a few degrees above. Precipitation is forecast through the week ahead but with marginal conditions. This may fall as rain or snow with snow more likely at higher altitudes and more northerly latitudes, rain further south and down in the valleys.

SCOTLAND REPORT Hopes were high in Scotland at the end of last week with the extremes of wind and rain ending, temperatures dropping and some moderate snowfalls turning the mountains white. The forecast for the week ahead showing temperatures staying near zero. Nevis Range (0/20cm / 0/8") and Glencoe (0/20cm / 0/8") on the west looking particularly promising and opening terrain outside their all-weather snow-making areas for the first time this year. Alas, since then it has turned warmer than forecast and windy too so the snow is going again but there's hopefully more on the way. Glencoe was running its Access Chair, Plateau Poma, Coire Pollach, Cliffhanger Chair and Wall T-bars at the start of the week, pretty much the most this season.
FORECAST The remainder of this week is looking uncomfortably warm for the thin snow cover but the good news is that currently significant snow, most likely heaviest in the west Glencoe and Nevis Range) again, is set to come in next weekend, as long as the forecast doesn't flip again. Hopefully, at least some of the current base there will make it through until the next snow starts falling.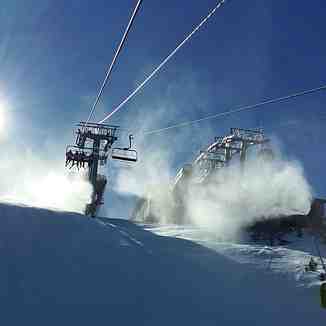 SPAIN / ANDORRA REPORT The snow is currently falling in the Pyrenees with one of the heaviest snowstorms of the winter so far in western Europe. A number of resorts have been closed Tuesday/Wednesday by the extreme weather which is forecast to bring up to 1.2 metres (4 feet) of snowfall to the region by the end of this week, with most areas expected to get 30-60cm (1-2 feet) of fresh snow. The snowfall is particularly good news for smaller, lower ski areas in the region which had been scraping by with thin bases from December snowfalls and will perhaps see more snow over the course of this week than the rest of the season up to now. Snow depths are currently building but at the time of writing Boi Taull (60cm/140cm / 24/56") was reporting the deepest snow in Spain.

FORECAST The heavy snowfalls and strong winds currently impacting the Pyrenees are expected to die off through the latter half of this week. Sunny skies should then return but temperatures are expected to stay sub-zero celcius. There's a chance of a little more light snowfall on Saturday/Sunday but, if any, it will probably only be a few centimetres.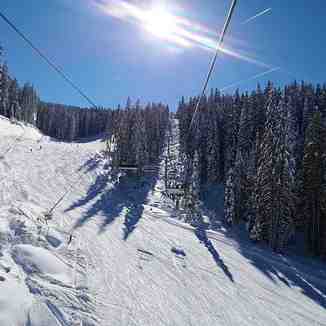 BULGARIA / ROMANIA REPORT There's little change to report on south eastern European ski slopes this past week with largely sunny skies for another week and temperatures still too warm. This has caused problems for smaller, lower resorts which are mostly open, but in many cases still with just a few higher trails open and green valleys/mountainsides. Bansko (5/75cm / 2/30") continues to have the most terrain open and is staging FIS World Cup racing this week.
FORECAST The forecast is for much of the same type of conditions this coming week as last. Temperatures could be too warm down in resort (up to 10 degrees above freezing, though more commonly 5 above) but staying cold up on the higher slopes. There is some snow forecast next weekend, potentially quite a significant dump on the slopes, but rain in resort due to the temperatures. Long term, it looks like it will be colder moving into February but that's some way off still to be certain.
CZECH REPUBLIC / SLOVAKIA REPORT There was some snowfall in the Czech and Slovak republics through the weekend but for most it was not a great deal, 5-10cm (2-4 inches) in the majority of cases. With the sun back out and temperatures low conditions are pretty good on the country's higher slopes and at bigger resorts. Jasna (30/80cm / 12/32"), for example, has about 90% of its trails open and lifts running.
FORECAST It's looking like largely clear skies ahead for the coming week. Some cloudier periods but there's no precipitation in the forecast for the next 7 days. Temperatures below freezing will remain for the coming week from the valley floor up and frequent double-digit below freezing temperatures. So the snow should stay in good shape and snow-making systems will be able to operate at capacity.

NORTH AMERICA INTRO It has been one of the snowiest weeks of the season so far in North America. The Pacific Northwest continued to be dumped on, but the snowfall is now covering a much wider area with resorts down in southern California seeing some good snowfalls after a mostly dry month. Even out over the Pacific there was 50cm of snowfall reported on the world's highest mountain, Mauna Kea (albeit with three-quarters of it under-water). The other good news was significant snowfalls in the Midwest and East too where there have been problems with warm temperatures and freezing rain (or just rain) over the first few months of this season, at various times. So just straight heavy snowfall, at last, has been warmly welcomed in the region. The snow in the West is causing logistical and sometimes safety issues at times, however. A Californian resort suffered a rare inbounds avalanche on steep terrain at the weekend leading to one death. This is the second fatal avalanche on inbound terrain declared avalanche-safe, in the wider region, this winter.

ROCKIES REPORT It's been a week of mostly light snowfalls in the Rockies with most of the ski areas in the region reporting great conditions and all of their terrain (or almost all of it) open. Schweitzer in Idaho (67/108" / 168/270cm) has the deepest base in the region but several others in Colorado and Utah are just a few inches behind and almost all ski areas in the region report healthy bases and a fresh covering.
FORECAST A mixture of sunshine and showers for the week ahead with light snowfalls giving way to sunny conditions to end the week. Temperatures should stay down around freezing, not too cold but not too warm either. A front should bring fresh snowfall into the region at the weekend.

USA WEST REPORT The snow has kept falling in the Northwest US where Alpental, in Washington state (81/172" / 203/432cm), continues to post the deepest snow base in the world at present. There has been a bit of a lull in the deluge since the weekend with lighter snowfalls and temperatures hovering around the freezing point. But, all in all, this region is now completely transformed compared to a month ago. It's hard to believe that back then ski areas that now have some of the deepest bases in the world were delaying the opening for lack of snow cover.

FORECAST After the slow-down in snowfall in the West since the weekend things look set to ramp up again through the latter half of this week with more northerly centres set to get another 20 inches/50cm of snow. Further south in southern California it's looking pretty dry but should stay cold. In between, the Tahoe region is set for a big snowfall around Sunday if the forecast holds true through to then.

MIDWEST REPORT There was some proper winter weather for the Midwest over the weekend with lake effect conditions pushing snow showers inland off Lake Michigan on Sunday evening, with the heaviest snow settling over NW Indiana. Big Snow Resort, Indianhead Mountain (24/48" / 60/120cm), reported the biggest snowfall in North America over the past three days with 25 inches (65cm) of fresh cover but things are looking much better than they were across the whole region
FORECAST Temperatures have been climbing again and it's looking a little warm again over the next few days, particularly in the more southerly ski states. That said, freezing temperatures should generally prevail on the slopes at least, if not so much at the base. Sunny weather is expected over the next few days with clouds rolling in on Friday and more snowfall forecast at the weekend.

USA EAST REPORT It's been one of the best weeks of the season so far in the East with ski areas here reporting up to 20 inches (50cm) of snowfall over recent days and a much-improved picture for many after issues with warm temperatures and freezing rain. Killington (24/24" / 60/60cm), the biggest in the region has had 6 inches (15cm) of snowfall in the last few days and reports about two-thirds of its extensive terrain currently open.
FORECAST There are some quite big weather fluctuations at present in the region with temperatures double-digits below freezing earlier this week. Temperatures are now a little above freezing but set to get colder again with another wave of significant snowfall (some areas may get a foot/30cm in 24 hours) at the weekend.

CANADA WEST REPORT Ski area in Western Canada have reported the biggest snowfalls in North America over the past week led by Mt Washington Alpine Resort (138/138cm / 55/55"), on Vancouver Island, with 52 inches (1.3 metres/over 4 feet) of snowfall in the last seven days. On the mainland, several resorts on the Pacific coast are in the top five for snowfall on the continent again too. Whistler Blackcomb (205/205cm / 82/82"), the biggest, is up there with 37 inches (92cm) of fresh snow and finally has all of its runs and lifts operating, the biggest in North America. Inland conditions continue to be excellent (cold, but not as cold as before) in Alberta and Central and Eastern BC

FORECAST The snowy deluge hitting Canada's west coast look set to continue through much of the coming week with pacific coast ski areas set to keep being dumped on over the next seven days. The snowfall will continue inland to central BC so ski areas like Revelstoke should get more snow too, but less is forecast further east and into Alberta where it may only be a few centimetres.

CANADA EAST REPORT There have been some of the best snowfalls of the (previously lacklustre) winter so far in Ontario and Quebec with resorts reporting up to 40cm (16 inches) of new snow in recent days. Massif du Sud (234/234cm / 94/94") has one of the best bases in the region and has had 20cm (8 inches) of fresh snow since the weekend. Of the bigger resorts, Tremblant (30/45cm, / 12/18") has had 22cm (9 inches) of snow and now has 101 of its 102 slopes open. Newfoundland, where the ski areas had not been able to open earlier this winter for lack of snow, made mainstream media headlines this week when a huge snowfall buried vehicles and some buildings.

FORECAST After the recent snowfall clearer weather is expected in Eastern Canada for most of the week ahead. Temperatures should stay well below freezing on the mountains in Ontario and Quebec keeping the snow that's there in good condition.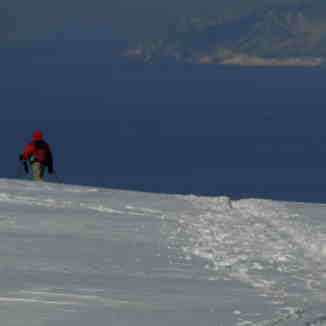 JAPAN REPORT It's now generally recognised that this is the worst winter for at least 30 years in Japan with the weather generally just too warm and so the snow is not falling. Where there is snowfall, it's currently running at 20-25% the annual average for this time of year. But against that grim background, there has been good news in the past few days with more normal heavy snow to start the week and 20-40cm across the country's ski slopes in 24 hours on Monday/Tuesday. Niseko (125/245cm / 50/98"), on Hokkaido, which has had better snow conditions than further south, has had 80cm (32 inches) of snow in the last week. This is far better than the 10cm (4 inches) the area received the week before, SnowJapan.com reports, and is approaching 5 metres of snowfall this season so far.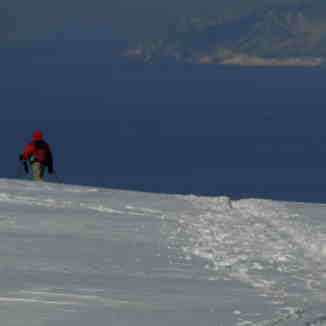 FORECAST Unfortunately, after the current snowy conditions the short term forecast is for a return of warm weather over the coming few days which will obviously have a negative impact on the Japanese snow base in the short term.