Panoramica sulla neve nel mondo
Abbiamo creato questa pagina per aiutarvi a trovare le migliori condizioni di neve. Essa combina le fonti di dati passati, presenti e futuri da tutto Snow-Forecast.com e aggiornamenti regolarmente. Il Carrellata Neve pagina è aggiornata il lunedì e il giovedì per tutti le principali località sciistiche. In diretta aggiornamenti neve eyeball sono mostrati in tempo reale, se presentati via Twitter dalla nostra rete globale di giornalisti. Scelte delle Località liste località sciistiche di tutto il mondo in cui è prevista neve fresca, la neve fresca è riportata e le ultime profondità della neve.
SNOW NEWS UPDATED 19 February 2019

INTRODUCTION An unusual week for snowfall, this season, in Europe. Particularly compared to the start of this year as there's hardly been any new snow. After the huge snowfalls in the Eastern Alps in January and the decent snowfalls pretty well everywhere else over the past month, it has simply stopped across much of Europe.
AUSTRIA This is the first week of 2019 when there's been (virtually) no snow reported in Austria. Instead, full on spring has started a few weeks ahead of actual meteorological spring with above zero temperatures causing the start of a thaw on the lower slopes of many Austrian resorts. The good news is that thanks to those huge snowfalls in the first half of January (that brought parts of the country to a standstill) most Austrian resorts currently have deep bases that should see them through the rest of the season. This should be the case even if there's no return to more wintery conditions. For powder hunters, however, the news is obviously less good. Although, the best of the conditions are inevitably on higher slopes. So, little change in the numbers from a week ago. The Kaunertal glacier (200/560cm) has the country's deepest base with almost all of the country's other seven glacier ski areas reporting at least 4 metres lying on upper slopes. Of the non-glacier resorts, Bad Gastein (280/400cm) has some of the biggest numbers.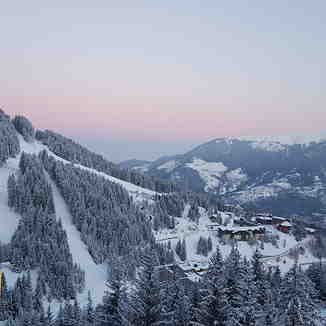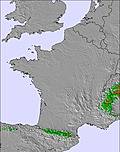 FRANCE It's an almost identical picture for France with the exception of a few flakes down in the far southern Alps and the Pyrenees. A handful of resorts started the week this way. Otherwise, it has been almost wall to wall sunshine and lovely spring snow conditions for those not in search of powder. With no significant snowfall for 10 days it's getting increasingly hard to find, even high up. The conditions do begin to feel like the start of the main ski touring season, however. Again, relatively healthy snowfalls over the first six weeks of the year mean that the bases are good from top to bottom at most French resorts, enabling them to withstand the thaw. The country's deepest base stats have dropped only a little on a week ago. However, they are still topped by the Pyrenean resort of Cauterets (300/420cm) with resorts in the Grand Massif region, including Flaine (135/280cm) posting the deepest base in the Alps. But most of the big name ski areas in the French Alps are very close behind, including Les Arcs (150/270cm).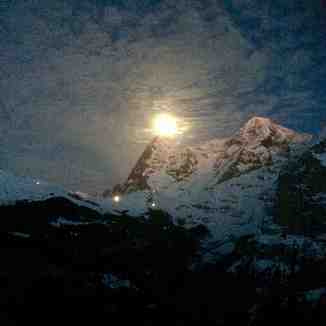 SWITZERLAND Switzerland, has also enjoyed a dry, sunny week. The centre and eastern side of the country reported the biggest snow accumulations of all during the first half of January and the whole country has had good snowfalls right up to nine days ago. This good weather has arrived when the snow is lying very deep across most of the country. This means that, once again, the thaw resulting from the above zero temperatures has a lot to work its way through. Of course, that doesn't mean the lower slopes aren't getting a little stickier than is nice by lunchtime; up high the quality remains good. Andermatt (70/600cm) is clinging on to that 'deepest based in the world' total it has held for two months now. Although, its lower slope depth has been diminishing and resorts in Western North America, which have had historically huge February snowfalls, are now close on its heels. Engelberg (78/575cm) isn't far behind either.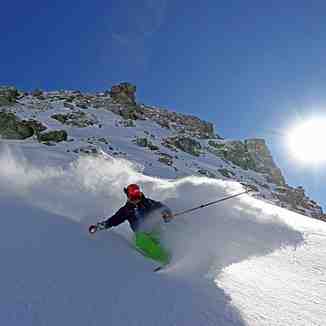 ITALY There's been no fresh snow in Italy either. Incidentally, there was very little fresh snow the weekend before last when it was snowing further north in Austria, France and Switzerland. Therefore, we are now more than a fortnight since any significant snowfall was reported in the country. Here too, conditions are spring-like with above zero temperatures at lower elevations during the daytime. But again on-piste conditions are generally excellent in the sunshine with decent bases in the Alps and adequate cover in most ski centres in the Dolomites too. Several resorts still have more than 4 metres of snow lying on upper slopes including the Passo Tonale (80/400cm) resort in Trentino. In Lombardy, Madesimo (120/330cm) is posting one of the best bases for the country's bigger resorts.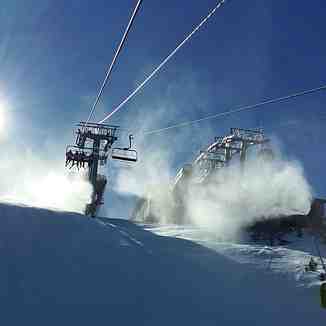 ANDORRA An almost identical scenario to the Dolomites and the Southern Alps is occurring in the Pyrenees: no fresh snow to note for over a fortnight. There are sunny skies, light to moderate winds and temperatures climbing to +5-8C in resort by the afternoon. It's just about staying below freezing on higher slopes. All of the ski areas are in good shape here too with virtually every run open and every lift operating across the area. Arcalis (160/220ccm), in the Vallnord ski region, has the deepest reported base with Grandvalira having more than 200km of piste available; the most in the Pyrenees.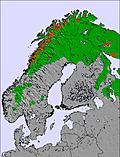 NORWAY/SWEDEN After the wild weather variations a week ago, things have quietened down a good deal in Scandinavia with fairly stable weather conditions: temperatures around zero celsius and mostly clear skies. Although the area has experienced the occasional light snowfall. Ski areas in Sweden have actually posted some of the biggest snowfalls in Europe over the past week, even though they're not that big. On Sunday Bjorkliden (70/70cm) reported the biggest 24-hour accumulation on the continent for example: 12cm/4 inches The deepest snow depths in the region are still in Western Norway though where Stranda (150/150cm) reports a few centimetres more fresh snow over the weekend with more forecast for the week ahead. Most resorts in the region have 50-100cm of snow and all runs are open.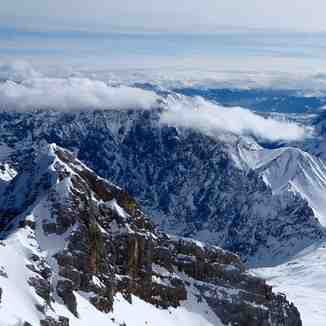 GERMANY Snow kept falling at German ski areas a little longer than elsewhere at the start of last week. However, it is at least a week here too since there was any snowfall of note that fell on German ski slopes. Again, for most well-known resorts in the country, that's not a huge issue at present as the impressive January snowfalls have built deep bases. The Zugspitze glacier (0/410cm) continues to post the deepest snow in Germany on the country's highest slopes. Reit im Winkl (113/330cm) has the second deepest.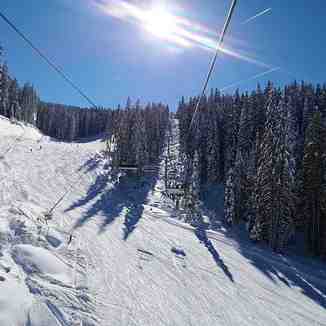 BULGARIA Bulgaria has had a largely dry and sunny week, in common with much of Europe. However, it has actually stayed a little cooler than the Alps until recent days when temperatures in-resort have tended to climb well above freezing, although remaining mostly sub-zero on the slopes. So with no fresh snow, there's little change to the snow depth tables with Pamporovo (225/255cm) still on top. Bansko (110/200cm) hosts one of the first World Cup meets, later this week, after the World Championships in Are, Sweden ended at the weekend. It has the race pistes currently closed to the public. However, all other runs are open.

SCOTLAND Alas, it has not been a happy week for Scottish skiers. After a fortnight of relatively cold conditions and little sign of the strong winds, that are infamous on the country's slopes, those gales have returned and brought with them warm temperatures day and night which have lead to a widespread thaw. With the snow cover not that thick as it was, many slopes have turned from white to green and brown and we are down from a peak of some 609 ski runs open across the five Highland resorts, a week ago, to four of the short beginner areas created with all-weather snowmaking machines. Alternatively, dry slope material is being used; as was the case before the snow began to arrive in late January. The current weather is more gales and some light snow showers. But, sadly, there's probably not going to be a big change in the immediate future.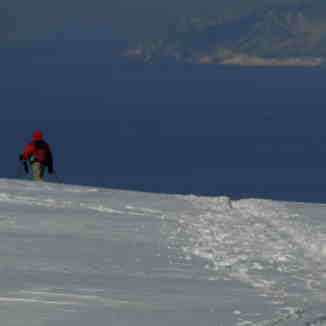 JAPAN A fairly usual week of regular 10-20cm powder dumps on Hokkaido with Niseko (165/370cm) just about at its nine-metre seasonal snowfall to date. However, the past few days have seen the regular snowfalls stall and, horror of horrors, the sunshine come out. An unusual scenario for February but one that looks likely to continue for the next few days. In Nozawa Onsen (150/320cm), to the south, it's a similar picture. Here snowfall to date is 8 metres for the season with 90cm in the past week. The sun is also out here and temperatures are warming through this week.

USA There have been some incredible snowfalls on the US Pacific coast with several Californian ski areas, including Mammoth Mountain (381/572cm) and Squaw Valley (356/566cm), reporting they have now had more snowfall this February than in any previous February in their long histories. In Mammoth's case, this was breaking a record set in February 1986. February snowfalls are up around the 4 - 5-metre mark. Mammoth reported 114cm (just under four feet) of snow in 72 hours to Sunday, for Squaw Valley it was 223cm (more than 7 feet). All this snowfall has caused some centres to close temporarily and others to be forced to limit available terrain whilst they make runs safe and dig out lifts. But the powder is reported to be epic, once skiers can get to it. There's been lots of snow in the wider Western side of the country as well, just not so much as in California. Washington state, further north, has posted some big numbers and also had logistical and safety issues dealing with all the snow. There's been fresh snowfall on the east coast too with many areas here reporting up to 30cm of new cover.

CANADA The past week has been snowier than the one before in Canada with accumulations of up to 50cm over the weekend. The biggest falls have been on the BC coast but there has been more snow for Quebec, in the East, too. Indeed, Mont Tremblant (453/453cm) continues to post the deepest base in the country after another 17cm of snow at the weekend. Whistler Blackcomb (252/252cm) has one of the deepest bases in the West and also reports fresh snow in recent days.

EUROPEAN WEATHER OUTLOOK After a week with almost no snow in the Alps, there's not a huge amount in the short-term forecast either; it looks like it should cool towards the end of the week. However, there are early signs of a return to more changeable conditions going into the weekend with light snow forecast on Friday/Saturday for Austria and Germany but nothing really for the western Alps, France or Switzerland, on the horizon as yet. It looks like a continuation of wall to wall sunshine in the Dolomites and Pyrenees too. For Scotland, the strong winds are continuing and although temperatures have dipped again allowing for some snowfall it currently doesn't look likely there'll be enough for slopes to reopen in the near future and temperatures look like they'll rise again later this week. In Scandinavia, it looks like a similar week to last with some more moderate snowfalls for both Norway and Sweden interspersed with dry spells. In Eastern Europe, it looks like there could be some quite significant snowfall in Bulgaria towards the end of the week with 10-20cm forecast, just as the World Cup rolls into Bansko. However, it should get a smaller snowfall than Bansko and Pamporovo.

NORTH AMERICAN WEATHER OUTLOOK It is looking fairly snowy across much of the US for the week ahead although the huge snowstorms in California look like they'll now ease away a good deal. However, parts of Colorado and Utah could see as much as 30-40cm more snow over the next few days. There'll be some more snow on the east coast too. But more like 10-20cm over the next few days here.